Checkout official results and photos from amazing Bellator 289 event – Stots vs Sabatello!
Raufeon Stots  vs Danny Sabatello – Bellator 289
IC-Raufeon Stots (19-1) defeated #6-Danny Sabatello (13-2) via split decision (48-47, 45-50, 48-47)
Stots Quotes: "I'm satisfied that I got the win, but I wanted to get that motherf*cker out of there. That's the most satisfying given the talk he was talking. I'm glad to be the one to shut him up for a little bit. I can sleep at night knowing that."
"I thought about that backstage. You know what? The fans not really liking him, so I'm going to give them something they'd enjoy after the fight."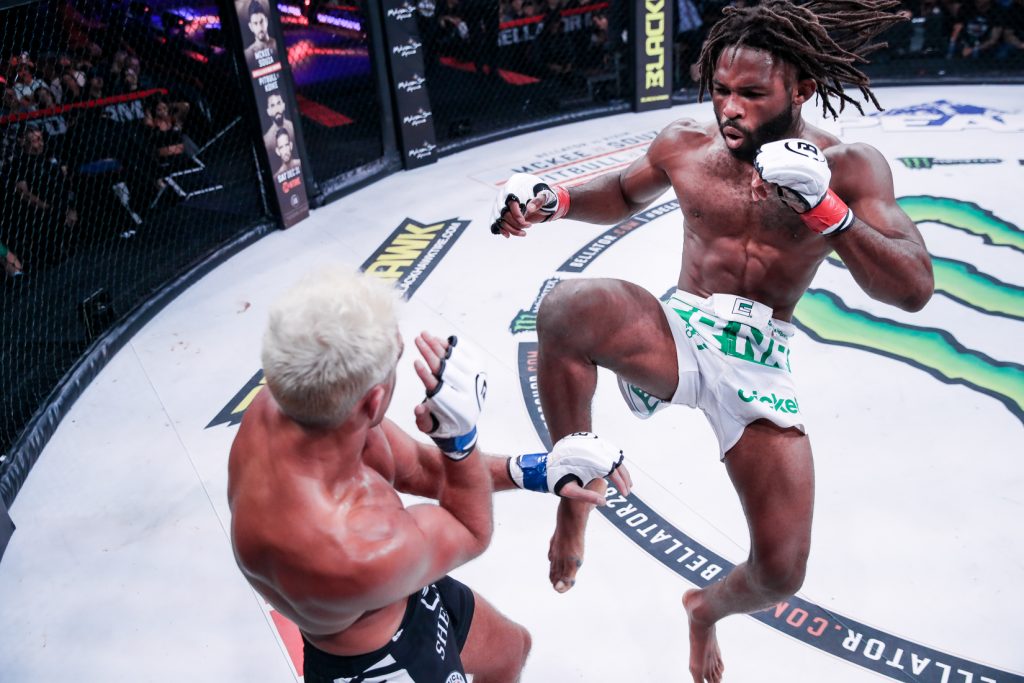 "I was surprised with the 50-45. I believe he was trying to control; we know that's his game, but he did no damage. I did the things I was supposed to do. I was progressing toward the finish, he was trying to stall the fight out. Just because you hold somebody's legs doesn't mean you should win a fight, and that's how I think it should be. This is mixed martial arts."
"My coaches were giving me sense of urgency. That's his whole game; he's gonna try to hold me. He was good enough to get past a lot of my defenses, but ultimately, he wasn't able to do anything with the positions and I was able to escape. I was able to reverse him or escape the majority of the time."
"I saw glimpses of [Patchy Mix's fight]. I saw the finish. I know Patchy's good on the ground, but you're not better than me at mixed martial arts. You've got to get past a lot of things to get to that position. I've got amazing submission defense and wrestling. I'm looking forward to that fight because he's proving himself as one of the greats. He's deserving of the spot. I'm looking forward to putting my fist through the gap in his teeth."
"It's just everything that I said was going to happen, happened. It's gratifying. I wanted to finish him and disable him for a little bit, but I got the win. I'm gonna sleep well for a little bit. I'm probably gonna keep trolling him for a bit."
"I think [Sabatello] was great for my career. He was a great step for me. I needed a villain, someone people thought could hang with me and challenge me. His skills were better than I thought they were, but I still won, so I'm still gonna talk shit to him… I think he'll be back. I think he'll learn from this loss and be better for it. Hopefully I see him again, because this was a fun fight and a fun buildup, so hopefully."
"Sabatello didn't hit me with anything, so if [Mix] is ready to go, I'm ready to go. I'm ready to go for February."
Sabatello Quotes: "I'm pissed off. I think I won that fight, my team thinks I won that fight. I take full responsibility for the loss. Every time you lose a decision, you could have stopped the guy. I don't know how the f*ck I lost the fight. I think the judges f*cked this fight. I don't know how one judge has 50-45 and the others get it wrong."
"Regardless of how I view the outcome of the fight, I go back to ATT and go balls to the f8cking wall to get back to that belt. This is just a speedbump for me. I'll always be motivated for the next one. I still think that I'm the best fucking bantamweight in the world. It's just three f*cking people that don't know what they're looking at. I had over 10 minutes of control time, and he had under a minute. He threw a lot of strikes that don't land. I don't have a bump or bruise on me. It's very frustrating because I thought I won, but I don't make excuses and it's my responsibility.
"A loss like this, you gotta go back and work on techniques to trick the judges. If I throw a lot of punches that don't land, it's gonna convince the judges. Make it look like I'm winning even when I'm controlling. I got to go back and watch the fight, but nothing changes; I'll go back and become a better martial artist."
"I think I won four rounds to one. I think the only round he won, possibly, was the third round. If you're throwing volume, it might look like you're winning to someone who doesn't know MMA. It has not become a fight, it has become how to trick the judges."
"Me and him are never gonna see eye to eye. None of this was fake. This shit's not over. If it was up to me, I'd fight him again in 15 minutes. We will meet again. I will beat him again, but I'll throw more volume in addition to the control."
On why he chose to address the media despite not being obligated to after a loss: "Something that I'll reiterate: whether I win or lose, nothing changes. The only thing that changes is my phone's gonna blow up with haters. I don't care about them; they'll never say it to my face. I'm the most pissed off ever, because I think I won this fight. It just sucks because in this sport, it comes down to three f*cking people."
Liz Carmouche vs Juliana Velasquez – Bellator 289
C–Liz Carmouche (18-7) defeated #1-Juliana Velasquez (12-2) via submission (armbar) at 4:24 of round two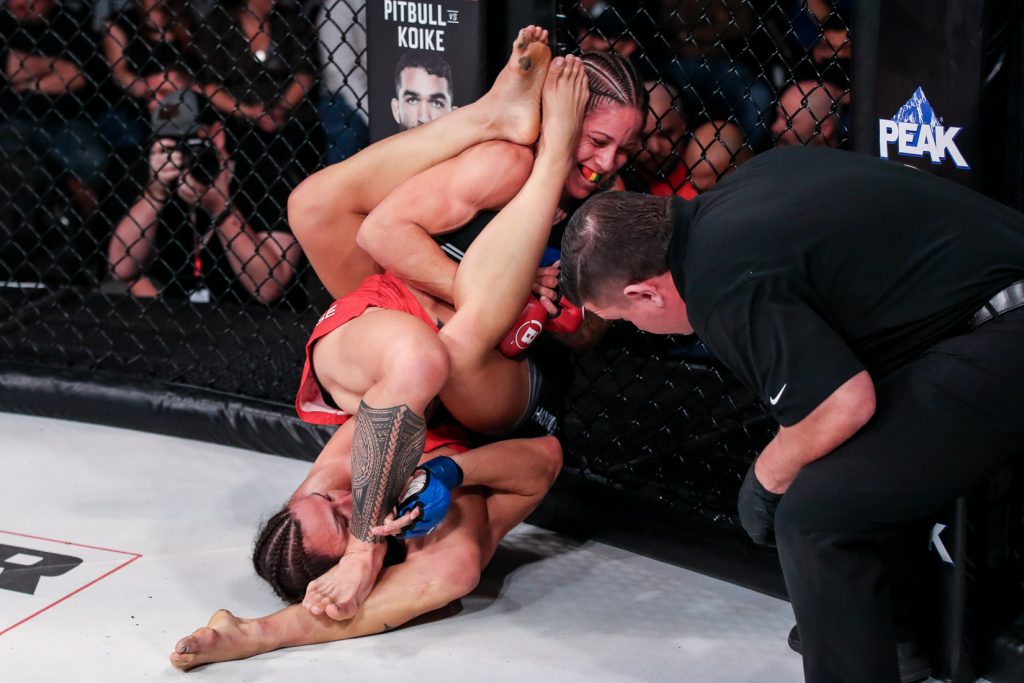 "It felt great. My mindset is to walk into every fight thinking that I have to earn the belt. Every fight, I have to train like I have to earn the right to have the belt."
"In all honesty, one of the things I've been working is crucifix from every position, so I could make it so not only will I finish you in the same position, I'll dominate. But, I saw [the mounted armbar] was there, and I had to snap the arm and take it."
On the fans booing: "The fans don't know what's going on, or what we're working towards. I wanted to drown her in deep waters and take her somewhere she hadn't been before, and that's what I did… But whether the crowd boos or not, I've gone into different countries wear the whole country was against me, so the fans don't bother me too much."
"The person that does the most commotion, that's who people will get behind. The trash talker, that's the person people are rooting against or rooting for, so I have to work on that, but tonight, that's a circumstance that I created."
"Ilima-Lei Macfarlane and I have been training partners for many years, and it would make sense to me [to fight her for her retirement fight for a hypothetical inaugural BELLATOR 135 title]. I want to be BELLATOR's 135 champion, and I want to fight her for her retirement fight in Hawaii. Then, [Kana] Watanabe; I know I caught her, and to do the fight in Japan where I grew up and in her home country, that'd be amazing."
"Personally, this is the first time I've ever gone away for fight camp. This is the first time I've ever left home for a coach. I left my wife with our two kids, our non-profit with all the dogs. This was a big one for me because I had to sacrifice, and she had to sacrifice."
"She didn't run like she did the first time. I felt stronger the first time, but she definitely learned from our first exchange in the fight."
"I didn't even realize that was the case [that I'm the only current female American champion across major promotions]; I'm probably the only Marine Corps veteran to hold a belt too, so that means a lot to me to represent my country."
"When I look at all the other 20-year-olds out there, they may have youth, but they're doing it wrong. I'm ahead of the curve of everyone else. It's mostly my mind over my body. I love the evolution of the sport. There's always something new to learn; [fighting] is just an opportunity to test what I keep learning."
Patchy Mix vs Magomed Magomedov – Bellator 289
#2– Patchy Mix (17-1) defeated #4-Magomed Magomedov (19-3) via technical submission (guillotine choke) at 2:39 of round two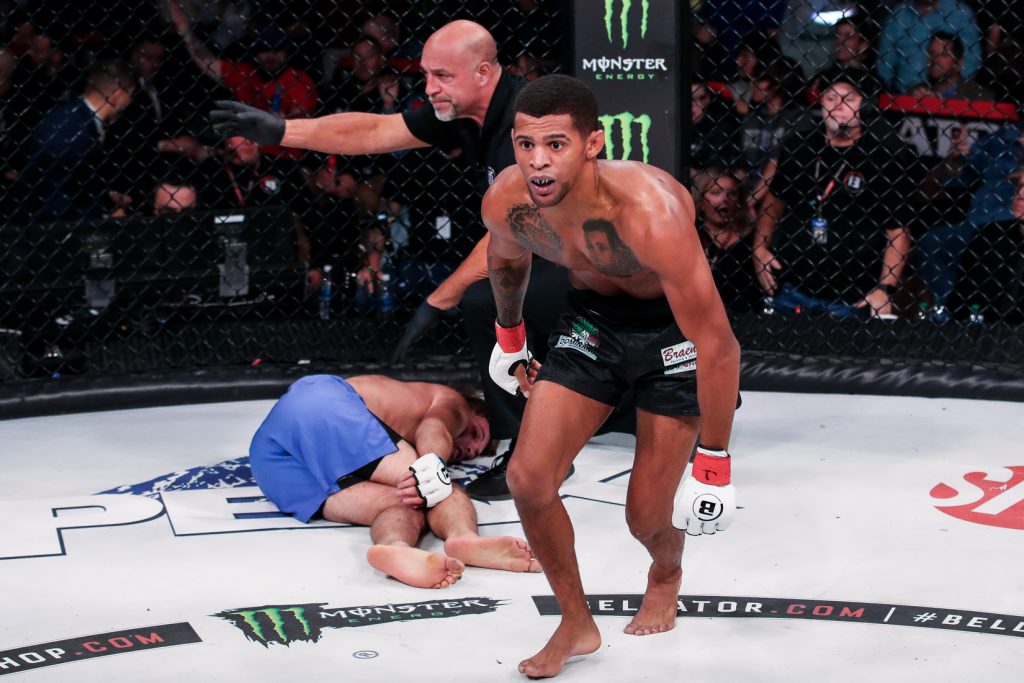 "That felt great. I was just trying to patient, man. It's surreal, and it's crazy. What a ride."
"I got a mean guillotine, and I can choke out anyone in the world with it. I saw in the Barzola fight that he's susceptible to the guillotine, but Maga's got a great warrior spirit, and I knew I'd have to put him out."
"I've been telling everyone all f*cking weekend: I'm the favorite to win the tournament. You know why? You see those two guys on the other side? I can submit them too. Sabatello puts himself in that same position 100 times. I was already confident against him. Seeing Magomed and Stots' fight, and how my fight went with [Magomedov], I feel good about that."
On whether opponents will try to avoid taking him down in the future: "They weren't trying to anyways. That's my twelfth submission. I was seconds away from submitting Juan Archuleta, and I'd be 18-0. If I was on level five before, I'm on level 50 now. They don't have to worry about what I did tonight, they have to worry about what I'm going to do next fight. Me and my team, we're going to get back in the gym. We got a big fight coming up."
"Me and Sergio, we trained. I've got nothing but respect for Sergio. I wish him a good recovery. My girl had ACL surgery, and I've got nothing but respect for anyone who's going through that injury. We can stand across from one another and meet in the middle."
"I didn't even need a takedown to get to the top position. I used my submissions to get to the top, then I got the finish… it's just such hard work that we put into this. I'm amazed."
"I'm gonna invest it, I'm gonna save it, and I'm gonna take care of my family. I'm gonna do the right things with [the $1,000,000 prize]."
Dalton Rosta vs Anthony Adams – Bellator 289
#5-Dalton Rosta (8-0) defeated #10-Anthony Adams (9-3) via unanimous decision (30-27, 30-27, 30-27)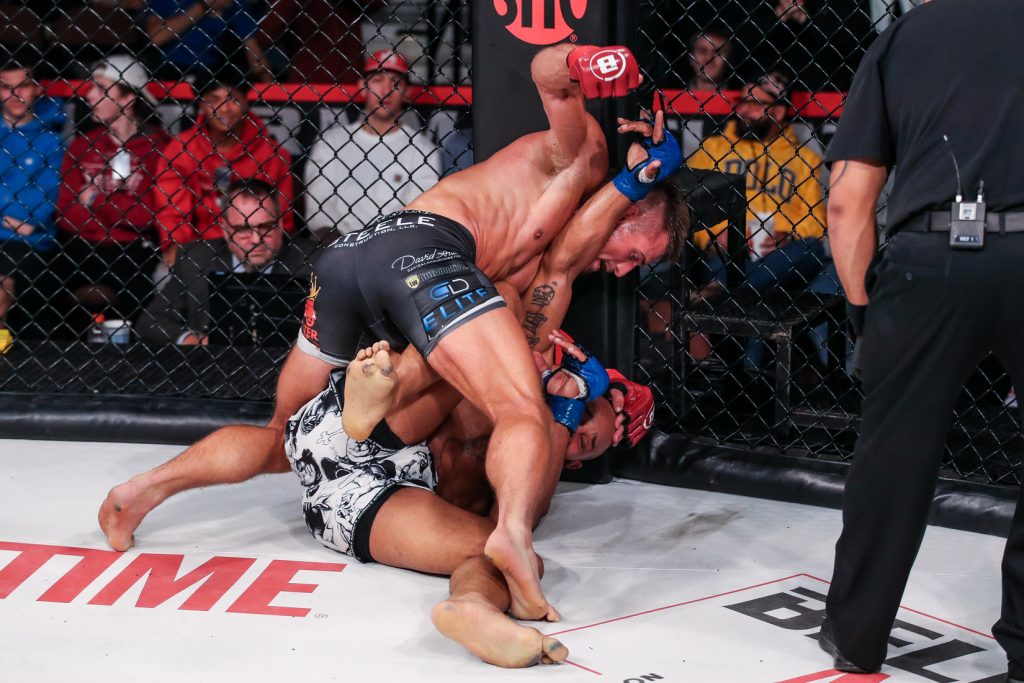 Q"I felt good. I could do that all day long. I'm used to working hard and going to dark places, then working my way out of them. I want to finish guys. Unfortunately, he was able to survive until the final bell, but I was working to get the finish."
"If anything, it's more a tease than anything [to just barely miss the KO.]"
"I need to continue to get better. My teammate, Johnny [Eblen], is the champ right now. I'm getting my experience in the cage. One thing I can take away from these decision wins is experience. I caught him a few good times, but he's hard to hit. A lot of my overhands were hitting his arms."
"I know if that's the way he wants to fight, good for him. But I look at that as becoming a master of retreat, not a good fighter. He's talented, but I can be comfortable all fight long if they're not going to come to me."
"Johnny Eblen is my teammate. Hopefully, we won't have to fight one another, but if it comes to that, it's only business. I'm blessed to have him at the gym."
"I don't wrestle unless I feel it's there; I don't try to force it. He was throwing a lot of knees and uppercuts up the middle. There were a couple awkward exchanges, but the only thing I really got hit with were a few kicks to the legs and the body; I blocked almost everything."
"I have a lot of people who came here to Pittsburgh. We could sell that out. It's a big sports town, and it's a big fight town. There's a lot of fighters in the area. We could sell out that arena, no problem, and I think it's a great place to hold a fight… [Ryan Shazier] flew all the way here from LA by himself to see me fight, so thank you Ryan."
"[John Salter] is like Romero Cotton 2.0; he keeps ducking my fight. I don't know what's going on on his end, but hopefully they can make the fight happen."
PRELIMINARY CARD  – Bellator 289
Ilara Joanne (11-6) defeated #3-Denise Kielholtz (6-5) via split decision (29-28, 30-27, 29-28)
Jaleel Willis (16-4) defeated #8-Kyle Crutchmer (9-2) via unanimous decision
Cris Lencioni (10-3) defeated Cody Law (6-2) via split decision (30-27, 28-29, 30-27)
Christian Echols (3-2) defeated Pat Downey (1-1) via KO (punch) at 2:27 of round one
Kai Kamaka III (10-5-1) defeated Kevin Boehm (9-6) via TKO (punches) at 2:23 of round three
Michael Lombardo (13-5) defeated Mark Lemminger (12-4) via KO (punch) at 4:23 of round one
Cass Bell (6-2) defeated Jared Scoggins (10-3) via split decision (29-28, 28-29, 29-28)
Updated schedule of BELLATOR events – click links for updated fight cards
Sat. Dec. 31 // BELLATOR MMA vs. RIZIN FF // Saitama Super Arena // Saitama, Japan
Sat. Feb. 4 // BELLATOR 290: Bader vs. Fedor 2 // Kia Forum // Inglewood, Calif.
Fri. Feb. 24 // BELLATOR 291: Amosov vs. Storley 2 // 3Arena // Dublin, Ireland