The UFC 279 CHIMAEV vs. DIAZ will take place on Saturday, September 10 from the T-Mobile Arena in Las Vegas, Nevada. Here you can find fight card and more details about event,
In this highly anticipated matchup, the No. 3 UFC welterweight contender Khamzat Chimaev will be meeting Nate Diaz. Also, the No. 14 UFC welterweight Li Jingliang will be welcoming the fan favorite, Tony Ferguson, back to welterweight. The UFC® 279: CHIMAEV vs. DIAZ will be available on ESPN+ Pay-Per-View.
Khamzat Chimaev vs Nate Diaz – overview
UFC 279 Chimaev vs Diaz – Unbeaten welterweight sensation Khamzat Chimaev returns on September 10 to compete in the five-round UFC 279 main event at T-Mobile Arena against veteran superstar Nate Diaz, fresh off a thrilling victory over top contender Gilbert Burns.
This will be Chimaev's first Las Vegas appearance in almost two years. Chimaev has won all 11 of his professional fights, including five in the UFC. He has also earned post-fight performance bonuses in each of his appearances in the Octagon, but it was his Fight of the Night victory over Burns in April that showed he was ready to compete at the highest level at 170 pounds.
He will be put to the test once more in September by Stockton's Diaz, a UFC fighter who has competed against and defeated a who's who of the sport since joining the roster in 2007.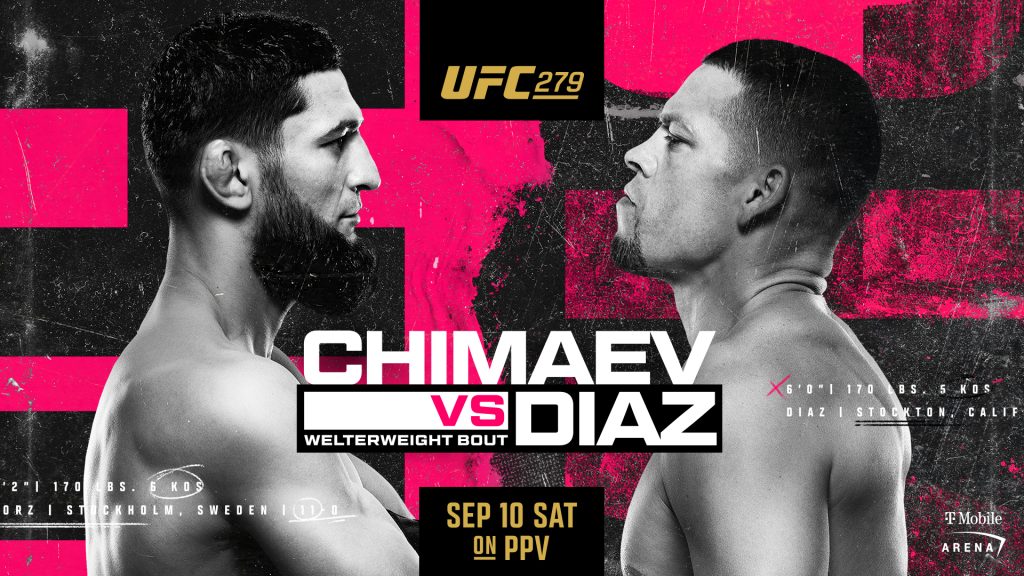 Khamzat Chimaev
 (11-0, fighting out of Stockholm, Sweden by way of Chechnya, Russia) looks to remain undefeated as he sets his sights towards a UFC title shot

No. 3 ranked UFC welterweight
Undefeated in the UFC (5-0)
Seven first round finishes
Six wins by KO, four by submission
Holds wins over Gilbert Burns, Li Jingliang and Gerald Meerschaert
Nate Diaz
 (21-13, fighting out of Stockton, Calif.) intends to shake up the UFC once again by taking out another surging top contender

UFC welterweight
The Ultimate Fighter Season 5 winner
15-year UFC veteran
12 wins by submission, five by KO
Holds wins over Conor McGregor, Anthony Pettis and Donald Cerrone
Khamzat Chimaev Q&A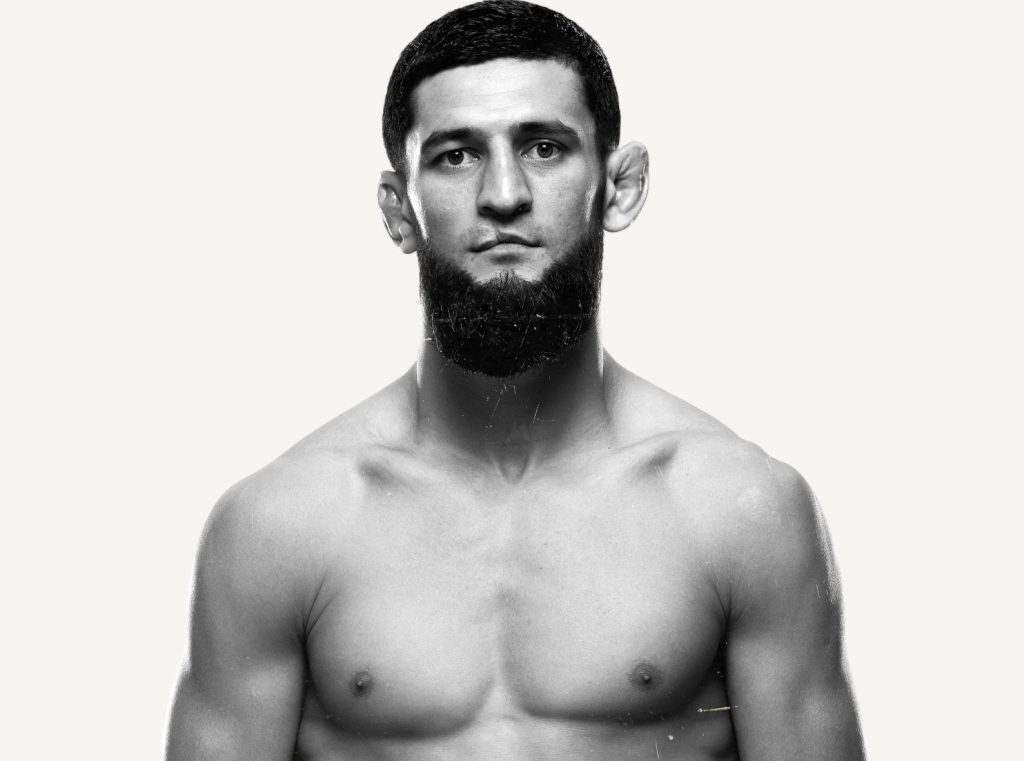 Thoughts on opponent, Nate Diaz?
When and why did you start training for fighting? I am a competitive person and have competed my whole life. When I was younger it was wrestling, and when I moved to Sweden, I kept wrestling. After a few national championships I won a gift card at a hotel in Stockholm. I came during a weekend and went to Allstars and tried MMA. I felt that this was something for me and when I went back to Kalmar, I decided to quit my job and move to Stockholm.
What ranks and titles have you held?
Swedish National champion in freestyle wrestling, purple belt in BJJ
What does it mean for you to fight in the UFC?
It means that all the hard work and sacrifices that have been made are worth it now when I belong to the best fighting organization in the world. Finally, I can show to the world what I am capable of.
Did you go to college and if so what degree did you earn?
No

What was your job before you started fighting?
I worked in a small poultry factory in the small town of Kalmar and did some security work in Stockholm when I started fighting.

Specific accomplishments in amateur competition?
I went undefeated (4-0) as an amateur in MMA with all finishes. Favorite grappling technique: No favorite. As long as the opponent taps, it's the favorite.
Nate Diaz Q&A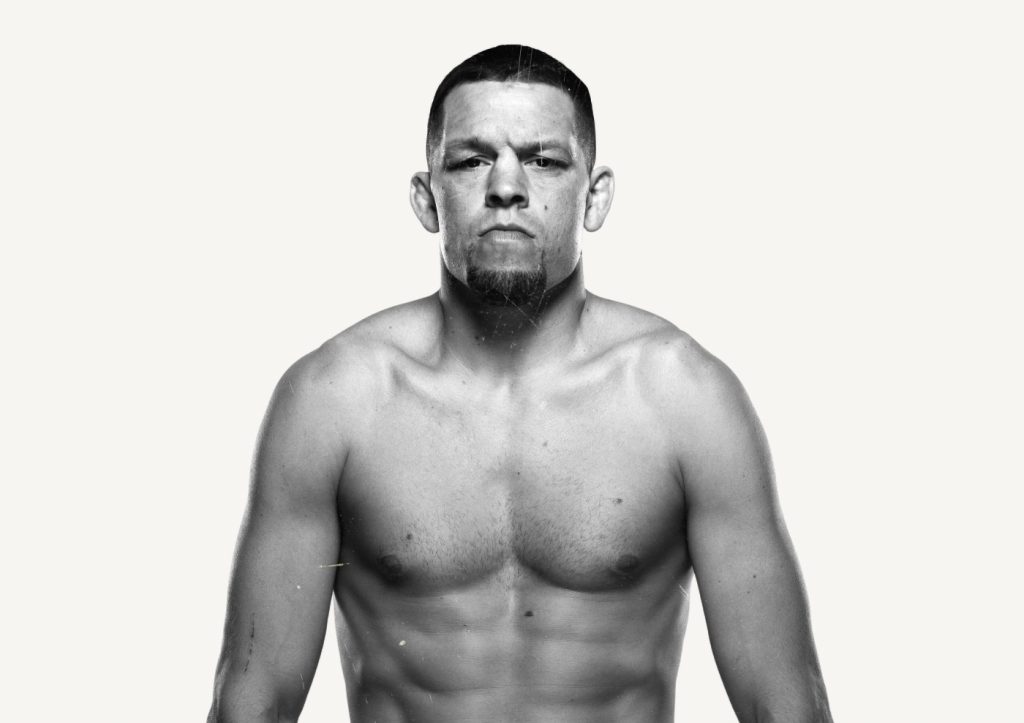 When and why did you start training for fighting?
I started training when I was younger just because I didn't have much else to do, and that's what my brother (Nick Diaz) did. I just went to the gym with him, he started fighting in the UFC, and I wanted to help him win fights so I did everything I could. I put on the gloves and sparred with him, and before I knew it I was getting a fight of my own.
What ranks and titles have you held?
Black belt in Gracie Jiu-Jitsu, The Ultimate Fighter 5 winner

Do you have any heroes?
Nick Diaz, Cesar Gracie, the entire Gracie family, and all my training partners on the Cesar Gracie Fight Team

What is your favorite technique?
None

What does it mean for you to fight in the UFC?
I think it's cool. It's been a dream of mine for a long time to fight in a big show.

Did you go to college and if so what degree did you earn?
No

What was your job before you started fighting?
High school student
UFC 279: Chimaev vs. Diaz Fight Card
10th September 2022, 3780 South Las Vegas Boulevard Las Vegas, NV United States
Main Card
Match
Welterweight Main Event
Welterweight
Catch Weight
Women's Bantamweight
Light Heavyweight
Preliminary Card
Match
Featherweight
Heavyweight
Catch Weight
Heavyweight
Middleweight
Heavyweight
Early Preliminary Card
Match
Women's Featherweight
Women's Strawweight
Bantamweight
Women's Strawweight
Welterweight
How to watch UFC 279 – date start, time
UFC® 279: CHIMAEV vs. DIAZ takes place Saturday, September 10 from T-Mobile Arena in Las Vegas, Nevada. Buy tickets
Event will be available on ESPN+ Pay-Per-View, starting at:

UK time – Son, Sep 11
Main Card PPV 3:00 AM
Prelims ESPNN/ESPN+ 2:00 AM
Early Prelims ESPN+ 11:00 PM
European time – Son, Sep 11
Main Card PPV 4:00 AM
Prelims ESPNN/ESPN+ 2:00 AM
Early Prelims ESPN+ 12:00 AM
US time – Sat, Sep 10
Main Card PPV 10:00 p.m. ET
Prelims ESPNN/ESPN+ 8:00 p.m. ET
Early Prelims ESPN+ 6:15 p.m. ET
Event Details
Start Date :
2022-09-10
,6:00:00 pm
End Date :
2022-09-10
,7:59:00 pm
Website :
https://www.ufc.com/event/ufc-279
Price :
120 USD
Attendance Mode :
MixedEventAttendanceMode
Status :
EventScheduled
Venue
T-Mobile Arena
Las Vegas Blvd S
,
Las Vegas
,
NV 89158
3780
,
USA
Phone :
+1 702-692-1600